What is Pilates?
Pilates is a form of exercise that focuses on the strengthening of your core and mobility through a number of movements. There is a lot of emphasis places on precision of movement and technique.
Pilates also focuses on breathing and smooth movement, which encourages good posture. There is often a strong emphasis on abdominal and pelvic core strengthening which results in overall strengthening.
Pilates under the supervision of a qualified person is very good for rehabilitation of specific medical conditions. As a physiotherapist I often make use of pilates exercises in my rehabilitation programs. I find that my patients strengthen well in a controlled environment and has more courage to return to other forms of exercises like going to the gym when they take part in a pilates class.
Pilates is usually performed at three different levels, beginner, intermediate and advanced. It involves the use of different equipment including balls, elastic bands, rollers and rings. Pilates can be done on a mat or a reformer in a studio.
What are the benefits of Pilates?
Improved core strength
Improved mobility and joint range of motion
Toning and strengthening of muscles
Improved balance
Better breathing techniques
Helps for stress and concentration
Weight-loss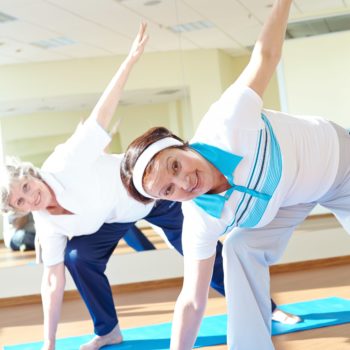 Who can do Pilates?
Pilates is suited for a variety of people of varying strengths. Sports people may do pilates as an additional form of strengthening, like runners who need some core stability. It may also be performed by people who have chronic pain or other medical conditions, especially under the supervision of a qualified person. Pilates does not involve a lot of cardio exercise so it may be a good form of exercise to start out with. There are many adaptions that can be made to exercises if someone is unable to perform a specific movement.
Overall Pilates is a great form of exercise for people of varying strengths and activity levels. To find out more about how Pilates can help you feel free to contact us for more information.
Written by
Isabél Lamprecht (BSc. Physiotherapy)
Isabél is a qualified physiotherapist with a passion for people and assisting them in reaching their fullest potential, as well as reintegrating them into their life rolls. She has a special interest in orthopedics and pain management.
References:
https://www.webmd.com/fitness-exercise/a-z/what-is-pilates
Images:
<a href='https://www.freepik.com/free-photo/concentrated-teens-stretching-the-left-arm_929648.htm'>Designed by Freepik</a>
<a href='https://www.freepik.com/free-photo/yoga-mat_964242.htm'>Designed by Freepik</a>
<a href='https://www.freepik.com/free-photo/close-up-of-woman-holding-yoga-mat-outdoors_1115575.htm'>Designed by Freepik</a>
<a href='https://www.freepik.com/free-photo/woman-sitting-stretching-one-arm_929888.htm'>Designed by Freepik</a>
<a href='https://www.freepik.com/free-photo/looking-for-balance_857865.htm'>Designed by Freepik</a>
<a href='https://www.freepik.com/free-photo/smiling-elderly-woman_937051.htm'>Designed by Freepik</a>